Talking Business: Tami's Tips & Toes offers relaxing atmosphere
Her new nail salon, Tami's Tips & Toes, is a one-woman show open by appointment only so that she can give her customers individual attention.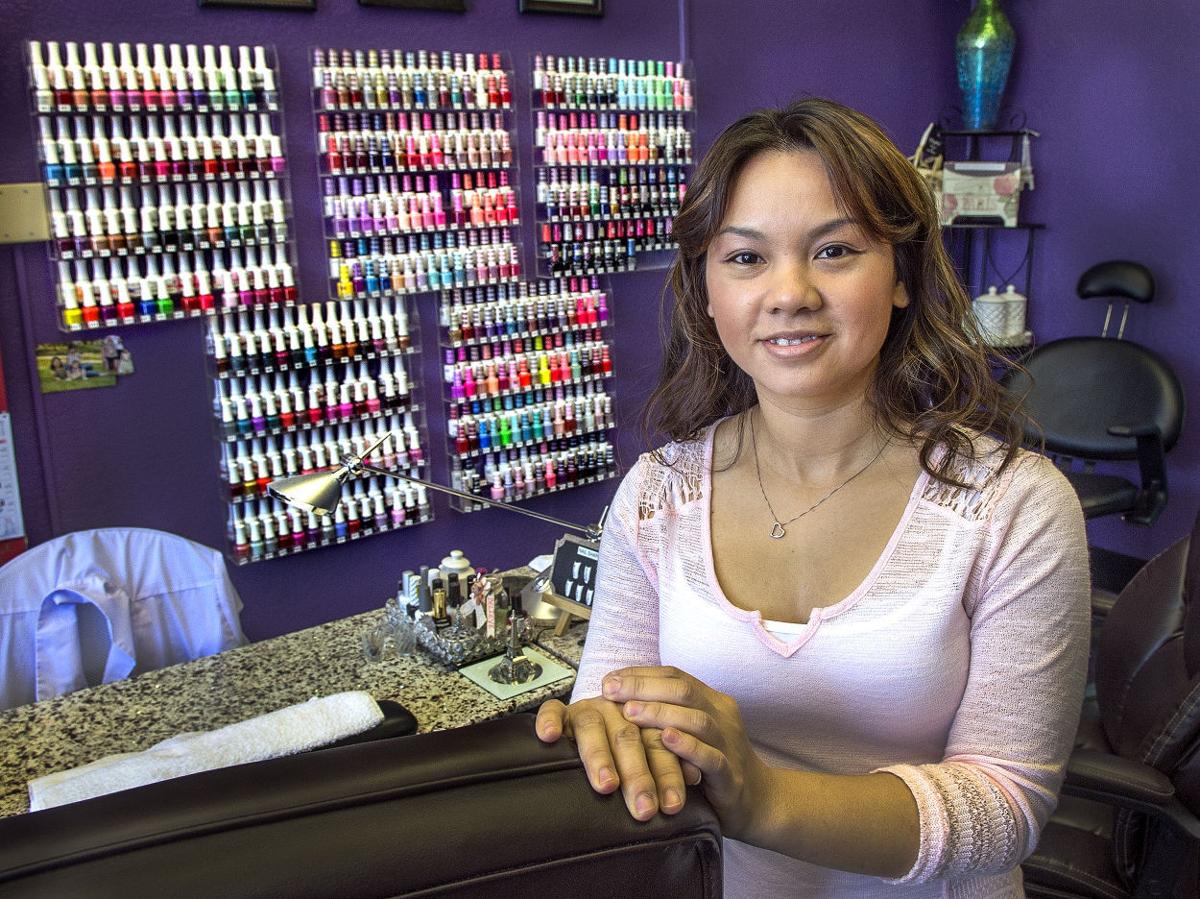 Roger Werth, The Daily News
Tami Phan, owner of Tami's Tips & Toes, offers a wide selection of gel nail colors at her new salon on 1323 Broadway in Longview.
Tami Phan has an uncommon business goal: She wants to stay small.
Her new nail salon, Tami's Tips & Toes, is a one-woman show open by appointment only so that she can give her customers individual attention. And other than potentially hiring one employee, she wants to keep it that way.
"I'm okay with my size now, and I don't think that will change anytime soon," Phan said.
Tami's Tips & Toes will serve a different purpose than Phan's former business, D.T. Nails. After Phan started D.T. Nails when she was 25 years old, the salon grew into a busy business. But after a divorce, Phan's desire to have a less stressful career motivated her to sell D.T. Nails last April. She opened Tami's Tips & Toes in January.
"I want this to be a smaller, more relaxing place," said Phan, 34, who moved to Washington from Vietnam in 1992. "I have many clients come back to me and say that they feel very comfortable here."
The boutique-sized salon is decorated to soothe. Purple walls are adorned with canvas prints of the Eiffel tower, and crystal-style beads sparkle behind a bouquet of silk blue, white and green flowers in the window display. Two plush pedicure massage chairs. There's a kitchenette with hot tea and snacks and a private room in the back that offers a space for small parties and a waxing table.
The salon offers waxing, acrylic nails, gel nails, eyelash extensions, manicures and pedicures. Phan has a big emphasis on cleanliness: Each customer receives new pumice stones, buffers and nail files; clippers are sterilized and kept in a hot oven to "hospital standards"; and pedicure tubs are lined with plastic.
"I do everything by the books," Phan said. She learned the trade a decade ago while studying business at DeVry University in Federal Way. Between classes, she found herself spending time with a friend who worked at a nail salon, and eventually she started working there.
"It just comes naturally to me," she said. "I think God gave that to me." Phan attended business and beauty schools at the same time, graduating from DeVry in 2005.
She moved to Longview shortly thereafter and began working at U.S. Nails.
"That's when I fell in love with Longview. ... It's such a small town, but it fits my personality," she said.
Early on her career she met customers Maggie May and her daughter, Lydia, and the three became close friends.
"It's such a friendly atmosphere," Lydia May said of the new shop. "It's really more like a family."
Phan beams looking around her shop. "It really is my dream," she said.
Bottom Lines
• Estetica Day Spa consolidated its business to one location at the Riverwoods shopping complex at 812 Ocean Beach Highway, closing its Commerce Avenue location. The spa had been at Commerce Avenue attached to Pals For Hair salon for about 14 years. Owners Kim Schlais and Barb Sudar opened the second location at Riverwoods last year, adding a clothing and accessories boutique to the spa.
• The Package Depot on Hemlock Street closed April 30 after a little over a year of business. Owner Cindy Riner said business was too slow, and she also plans to move to Forks, Wash.
The Daily News, Longview, Wash.
from link: www.tdn.com